Benefits of Investing in a High-Quality Sewing Machine
October 27, 2023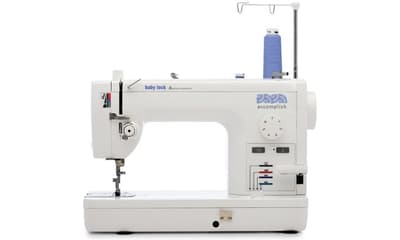 Since its invention in the mid-1800s, the home sewing machine has been an indispensable addition to making household fabric items. Before the home sewing machine, time consuming hand-sewing was the order of the day. But with a sewing machine, households could create better-constructed garments, quilts, and other necessities much quicker.
But What Kind of Machine To Buy?
The first thing to consider is what do you want to sew? Just simple garment repairs and an occasional Halloween costume, or making your own tent? Crafting household accessories, or tackling reupholstering a chair? There are quality machines available at several price points—both mechanical machines and electronic machines. A mechanical machine does not have a computer screen—and you usually crank a dial to select a stitch or change your stitch length/width. An electronic (or computerized) machine usually has a screen where you make your stitch selections.
Electronic/computerized machines generally have more ease-of-use options (such as a built-in thread cutter) and a more consistent and adjustable stitch. Regardless of type, find out if the machine has a metal frame inside. A metal frame gives you a machine that will have more stability and longevity. Working parts are attached to the frame, not just glued together. Lower quality machines are inexpensive to purchase, but are often not worth the price of repair, ending up in the landfill. A better-quality machine may cost you a bit more upfront, but will last longer, making it a better investment of your time and money.
Why Buy from a Sewing Machine Dealership?
An experienced sewing machine dealer can help you find a machine that fits your sewing needs and your budget. There is no guessing about what machine to buy---you can test-drive different makes and models to find a machine that fits your style and what you intend to sew. Your local sewing machine dealer is there to help you find the best machine for your dollar, so you will have many years of pleasurable sewing. And if something goes wrong, your local dealer will have the answer. Buying from a "big box store" or the internet does not give you the expertise, repair support, or technical know-how that your local dealer can.
If you're ready to create beautiful, high-quality sewing projects like never before, head to Montavilla Sewing Centers. Our wide selection of sewing equipment has everything you need to get started or finish a project. Whether you require machine accessories or a new machine altogether, we have you covered.
Stop by your Portland, Oregon area Montavilla Sewing Center to see what we have to offer. We carry all brands, and have access to most models. See why for the last 74 years, many of our customers won't shop anywhere else.
Categories: News
Recent Articles
Top 5 Must-Have Accessories for Quilters
Common Sewing Myths & Misconceptions Debunked
5 Types of Sewing Projects That Are Perfect for Beginners
What To Expect in Your First Quilting Class
Common Mistakes To Avoid in Quilting Projects