Keeping Up With KimberBell
March 19, 2020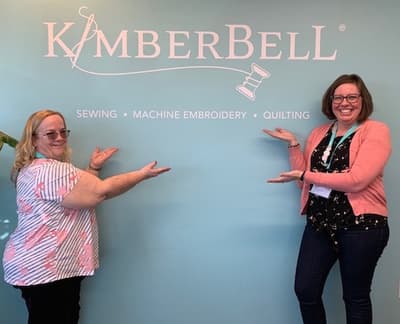 Recently our Sales Manager Aletha Peyton and Educator Sue Stein visited KimberBell's headquarters in Logan, Utah, and are now graduates of KimberBell Academy! Twenty-four participated in the training, from seventeen stores across the country, and even one from Australia (Sue's personal favorite). They spent their first two days at the Attic Event Space above the My Girlfriends Quilt Shoppe, with their last day at Kimberbell's headquarters.
A former 4th-grade elementary school teacher (and twin), KimberBell owner Kim Christopherson started designing projects for quilting and machine embroidery in 2009. She and her husband Ryan now head up a staff of approximately 60 employees, with four dedicated to embroidery design. An event kit crew prepares all event kits, and they have a team tasked explicitly with sewing out their new designs on all types of embroidery machines. Kim's twin sister, Kris Thurgood, is the owner of the My Girlfriends Quilt Shoppe in Logan, along with her husband, Mike.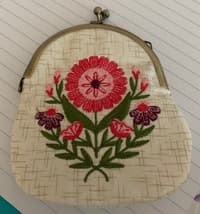 Our Sue thought the new clutches were the coolest thing she saw, and "was amazed how they were constructed in the hoop." Aletha said she "felt so nurtured and pampered" during their stay, and blown away by the warmth and camaraderie shown by Kim and her young staff, saying they were "all as cute and cheery as their designs."
Want some KimberBell fabrics, designs, and notions? YES! We have both yardage and pre-cuts of KimberBell fabrics by Maywood Studios, in addition to buttons, notions, many colors and textures of vinyl, blanks and embroidery designs (supply varies by store).
---
Here are the upcoming KimberBell events at Montavilla Sewing Centers (dates subject to change...):


---
Kimberbell Sewing With My Gnomies - Two-day Machine Embroidery Event - led by Sue Stein

A new two-day event with a sewing and garden theme! This event features Kimberbell Blanks: polka dot tea towel, buffalo check tote, and rectangle pillow form, plus darling scissors and tape measure. You will learn new techniques like over-the-edge appliqué and more! It's a cheery celebration, sewing with friends, and Kimberbell.
Please bring your embroidery machine and your 5" x 7" and 6" x 10" (or larger) embroidery hoops. If you do not own an embroidery machine that can embroider those sizes, but are interested in attending this event, please contact us. We will have a limited number of embroidery machines available for you to use. All other supplies will be provided, plus lunch and snacks. Cost: $199.95 (two-day event).
Beaverton - May 23 & 24, 10:00 am - 4:00 pm
Gresham - May 29 & 30, 10:00 am - 4:00 pm
---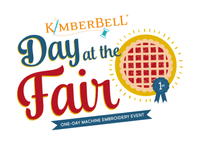 Kimberbell's Day At The Fair - One Day Event - led by Sue Stein

Come one, come all to a Day at the Fair! KimberBell's one-day machine embroidery event includes three prizeworthy projects with a fair theme. Transform a Buffalo Check Tote into a Blue Ribbon Pie Carrier, topped with a delectable, over-the-edge cherry pie! Then whip up your First Prize Preserves Tea Towel, available in two sizes and jam-packed with dimensional details such as Mylar strawberries, Applique Glitter, and more. Our Best in Show Hen Oven Mitt is really something to crow about, with three sizes and two side pockets for your fingers and thumb. All projects are made with a 5×7 and 6×10 hoop with a variety of techniques. There's something for everyone at KimberBell's Day at the Fair! Please see the class information on our website for details on supplies and machine requirements. Cost: $99.95.

Beaverton - June 4, 10:00 am - 5:00 pm
Portland - June 5, 10:00 am - 5:00 pm
---
KimberBell Club - led by Sue Stein
In this embroidery club, we'll be working on quick and easy technique-based projects which will work for a variety of hoop sizes. There will even be designs for machines limited to 4" x 4" & 5" x 7" embroidery hoops! You'll get a dealer-exclusive KimberBell design with instructions each month. Cost: $75/year.
Please Note: Clubs may only be signed up for by contacting us directly.
Portland - First Tuesday of each month, 1:30pm - 4:00pm
Beaverton AM - First Monday of each month, 10:30am - 1pm
Beaverton PM - FIrst Monday of each month, 6pm - 8pm
---
Recent Articles
Our Most Popular Products & Videos of 2022!
All locations now open 10am - 5pm, Monday - Saturday.
Resources for sewing masks
Update on Business Hours and Montavilla Services
Montavilla Sewing in Lake Oswego Grand Opening Events!