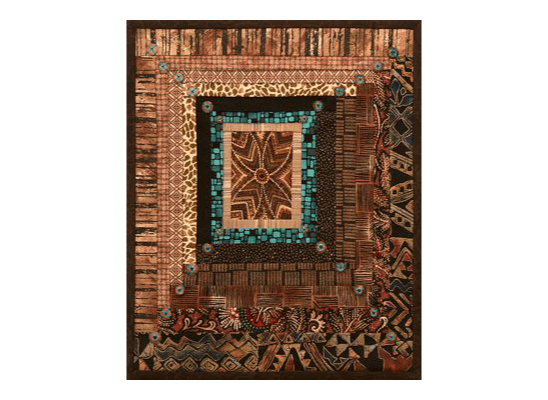 Art Quilt Techniques: Manx Block
This block technique known domestically as Folded Log Cabin is also sometimes called a Manx Block because it is supposed to have originated on The Isle of Man. Ironically; there it is called a Roof Block. Once you start piecing it, the similarity to laying roof shingles will become apparent. This is an easy dimensional block that is a 'quilt as you go' method.
This class is part of Helene Knott's Art Quilt Techniques class series:
Art Quilts are the rising star of the quilt world. These quilts explore and push the boundaries of design and technique to embrace methods you don't usually encounter in more traditional quilting. The class projects are small and can be made fairly quickly to experiment with new techniques. Because they are small, they don't involve the time investment that a larger project would require. This allows you to experiment and decide if you like the results enough to apply it to larger projects. Every month we will explore a different design challenge or technique; these will be a bit more artistic than your standard quilting class and may involve drawing and painting on fabric, textural and dimensional surface design, stitchery and embellishment and unusual construction methods... At each session, participants will be encouraged to show and share their projects from previous classes. The classes are ongoing, meeting every month and featuring a different project each session. There is no obligation to take each class, they are independent of each other but I hope you will be eager to learn and add each month's skill or technique to your repertoire. Skill Level: Confident Beginner and up.
Wearing a face mask is required while attending in-store classes, clubs, or events at Montavilla Sewing Centers. Thank you for your cooperation.
Schedule
Upcoming Classes
Location
Instructor
Price
Enroll
Cancellation & Refund Policy
Class, club, and event fees are nonrefundable. You must cancel 72 hours before the first session of the class, club, or event to receive store credit or apply the fee to another class, club or event. However, if the instructor or Montavilla Sewing Centers has to cancel a class, club, or event, you have the option for a store credit or full refund. Students must bring their own machines to all classes, unless otherwise noted. We request that you do not bring children or guests to the classes. Thank you!