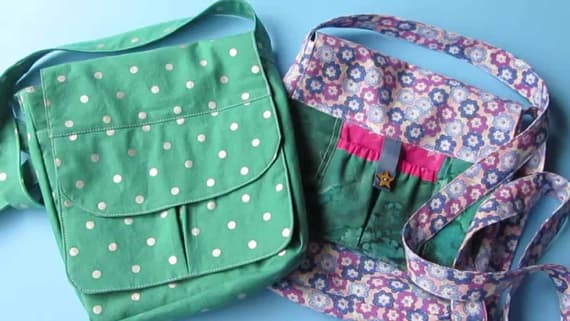 Sew Powerful Purses
In Zambia, it's the common cultural practice in both poor urban and remote village areas that girls stay home when they are menstruating. This is because they don't have a reliable product solution that they can afford. So to avoid the risk of social embarrassment – they simply stay home. Disposable products are not the solution because there is no garbage collection and the cost is an impossible barrier to overcome. A well made reusable product is the best solution.

In this Sew Powerful Purses class, we will each sew a basic purse that will be later filled with supplies. We will NOT provide any supplies beyond the basic purse. Patterns for the purse will be provided or you can download the patterns for beginner and intermediate purses at sew powerful.org. Bring 1/2 yard fabric for the purse and 1/2 yard for the lining. We will provide sewing machines or bring your own machine. Even if you can't sew, we have things you can help with: cutting or making note cards to put in the purses.
This class will be 10am -4pm, broken up into three 2-hour blocks. You're welcome to sign up for more than one block if you'd like to. Even though this is a free, drop-in class, please sign up here -- it helps us to plan the space accordingly.
Wearing a face mask is required while attending in-store classes, clubs, or events at Montavilla Sewing Centers. Thank you for your cooperation.
Schedule
Upcoming Classes
Location
Instructor
Price
Enroll
Cancellation & Refund Policy
Class, club, and event fees are nonrefundable. You must cancel 72 hours before the first session of the class, club, or event to receive store credit or apply the fee to another class, club or event. However, if the instructor or Montavilla Sewing Centers has to cancel a class, club, or event, you have the option for a store credit or full refund. Students must bring their own machines to all classes, unless otherwise noted. We request that you do not bring children or guests to the classes. Thank you!