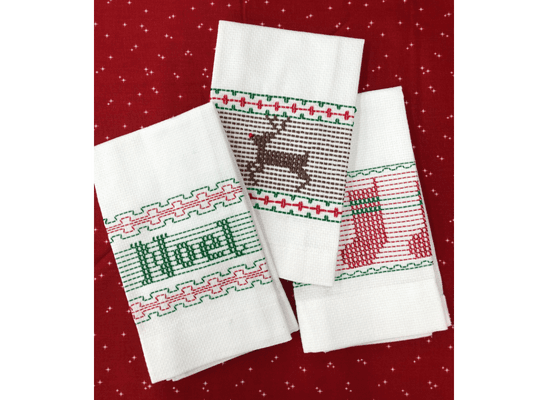 Swedish Hand Embroidery
Huck embroidery, sometimes called huck weaving or Swedish weaving, is a form of Hand embroidery that blends a bit of surface embroidery with weaving. Its name comes from huck cloth, which is the most common material used and as its alternate name suggests, huck embroidery originated in Sweden. When Christine was 12 she learned Swedish embroidery from a babysitter and hasn't put down her embroidery needle since. She has traveled to Japan and Sweden to learn the many uses for this easy, fun, fast technique. You will create a beautiful Christmas design on a towel ( or two, or three) - just in time for Holiday gift giving!!! All supplies and instruction needed will be available for purchase. Additional kits will also be available.

Wearing a face mask is required while attending in-store classes, clubs, or events at Montavilla Sewing Centers. Thank you for your cooperation.
Schedule
Upcoming Classes
Location
Instructor
Price
Enroll
Cancellation & Refund Policy
Class, club, and event fees are nonrefundable. You must cancel 72 hours before the first session of the class, club, or event to receive store credit or apply the fee to another class, club or event. However, if the instructor or Montavilla Sewing Centers has to cancel a class, club, or event, you have the option for a store credit or full refund. Students must bring their own machines to all classes, unless otherwise noted. We request that you do not bring children or guests to the classes. Thank you!