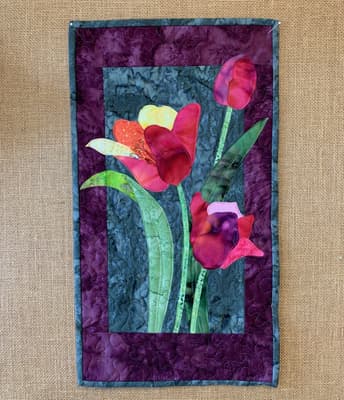 Tulip Garden Beginning Appliqué
This small appliqué wallhanging is a great beginning appliqué project where you will learn how to trace, cut and place your pieces as well as how to appliqué around the pieces and free-motion/stipple the background.
Prior to class you need to sew the background together. The center block is 7 1/2" x 14", the side borders are 2" x 14" and are sewn on first. The top border is 2 ½" x 10 ½". The bottom border is 3" x 10 ½". Press the seams towards the borders. When I choose a backing fabric for something I am going to appliqué I try to choose a "busy" background so that the odd stitching on the front doesn't really show on the back.
You may not finish the wallhanging in class, however you know how to finish up at home. Batik fabrics work well for appliqué because they are more tightly woven fabrics and less likely to fray. Also their varied colors are especially beautiful for flowers and leaves. I will bring some of my scraps in case you need something different. The larger pieces used for stems and the larger pieces of leaves should be brought and I will have many of the others. If you don't have the small pieces in your stash, you are welcome to my stash. I will also bring plastic sheets with the design drawn out for cutting pieces and placement. Finished Size 11"x18".
Wearing a face mask is required while attending in-store classes, clubs, or events at Montavilla Sewing Centers. Thank you for your cooperation.
Schedule
Upcoming Classes
Location
Instructor
Price
Enroll
Cancellation & Refund Policy
Class, club, and event fees are nonrefundable. You must cancel 72 hours before the first session of the class, club, or event to receive store credit or apply the fee to another class, club or event. However, if the instructor or Montavilla Sewing Centers has to cancel a class, club, or event, you have the option for a store credit or full refund. Students must bring their own machines to all classes, unless otherwise noted. We request that you do not bring children or guests to the classes. Thank you!