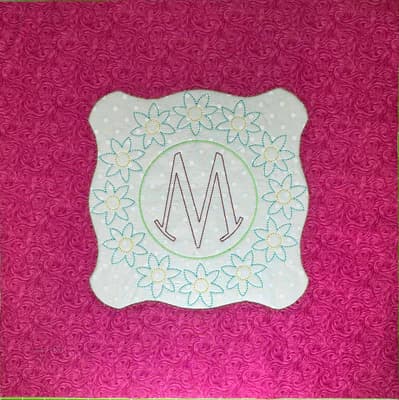 PJ's Embroidery Club 2021 - 2022
Led byPJ Wong
Learn tips, tricks, and techniques to get the most from your Embroidery Machine.
Each month, we'll create a project that showcases a technique or product.
Now you have the option to enroll in either a virtual club or an in-store club, or both!

Virtual Club - Each month, you'll receive a project PDF with step-by-step instructions, pictures, a supplies & materials list, and cutting information, plus an instructional video. Then you can work on the project at your leisure, from the comfort of your sewing room. Virtual clubs are through the Teachable website platform. You'll have access to all of this term's previous club sessions (Virtual Club term is 10/21 - 9/22), so if you sign up in the middle of the term, you'll still have access to all the club projects since the beginning of the term, plus all upcoming projects through 9/22.

In-Store Club - We'll meet at the store once per month and all students will work on the project together. PJ will provide the project PDF, plus she'll be on hand if you need any help. You will be responsible for bringing your embroidery machine and all necessary supplies needed for the project. You will also need to have a basic grasp of how to thread and operate your machine, to ensure the pacing of the class flows smoothly. These clubs have a limited capacity, so sign up soon!
If you want to sign up for both clubs - You'll get the perks of being in both clubs! If you want to join us in the store one month, come join us! If you'd rather stay home one month, you'll still get the project instructions, plus the instructional video, so you can work on the project at your leisure. Plus, you'll get 25% OFF the combo membership! Please contact us to sign up at the discounted rate.
Machine requirements:
Embroidery machine with 130mm x 180mm minimum embroidery field, and on-screen editing capabilities.

Wearing a face mask is required while attending in-store classes, clubs, or events at Montavilla Sewing Centers. Thank you for your cooperation.

Please Note: Clubs may only be signed up for by contacting us directly.
Schedule
Upcoming Meetings
Location
Instructor
Price
Enroll
Virtual
PJ Wong
$149.95 per year

August 26, 2022
2:30 pm - 5:00 pm
Lake Oswego
PJ Wong
$149.95 per year

Gresham
PJ Wong
$149.95 per year

August 15, 2022
2:00 pm - 4:30 pm
Beaverton
PJ Wong
$149.95 per year
Cancellation & Refund Policy
Class, club, and event fees are nonrefundable. You must cancel 72 hours before the first session of the class, club, or event to receive store credit or apply the fee to another class, club or event. However, if the instructor or Montavilla Sewing Centers has to cancel a class, club, or event, you have the option for a store credit or full refund. Students must bring their own machines to all classes, unless otherwise noted. We request that you do not bring children or guests to the classes. Thank you!