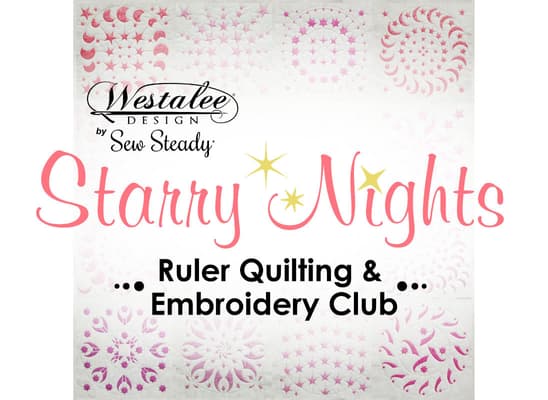 Starry Nights Ruler Quilting & Embroidery Club
Led byKelly Fones
Contact us to sign up!


Learn how to create stunning Designs with Westalee Rulers and/or your embroidery machine! The Starry Nights Club offers new quilting templates, tools, and education to help elevate your creativity! In this club, you'll work on the beautiful 16 block Starry Nights quilt, plus lots of bonus projects.
You'll get over $2000 worth of classes, products, and projects, all for only $499 if you sign up by 12/31! (reg. $599.95). Here's what's included:
8+ live streamed 1-hour classes from various Sew Steady educators, on the 2nd Thursday of each month at 10am (a $150 value). You are invited to watch these classes at our Beaverton store, where you'll have time afterwards to work on the projects & get help from Kelly if you need it, or you are welcome to view the classes from home.
12+ bonus classes with bonus projects, held on the 4th Thursday of each month at 10am (a $180 value), which you are also welcome to attend in-store or from home.
All of these class videos will be available to you forever on the Sew Steady University website, so you can re-watch them anytime!
30 quilting templates & 10 bonus tools & supplies right away (a combined $750 value)
The Starry Nights 16 block quilt pattern by Leonie West.
As an added bonus, you'll receive 16 Embroidery Collections with 120+ Designs! (a $960 value) Each block collection includes Border Designs, Corner Designs, Circle Designs and more!
Plus, get club exclusive discounts on Sew Steady and Westalee products all year!
Club runs January - August, 2023.
Please Note: Clubs may only be signed up for by contacting us directly.
Schedule
Upcoming Meetings
Location
Instructor
Price
Enroll
February 9, 2023
February 23, 2023
March 9, 2023
March 23, 2023
April 13, 2023
April 27, 2023
May 11, 2023
May 25, 2023
June 8, 2023
June 22, 2023
July 13, 2023
July 27, 2023
August 10, 2023
August 24, 2023
10:00 am - 1:00 pm
10:00 am - 1:00 pm
10:00 am - 1:00 pm
10:00 am - 1:00 pm
10:00 am - 1:00 pm
10:00 am - 1:00 pm
10:00 am - 1:00 pm
10:00 am - 1:00 pm
10:00 am - 1:00 pm
10:00 am - 1:00 pm
10:00 am - 1:00 pm
10:00 am - 1:00 pm
10:00 am - 1:00 pm
10:00 am - 1:00 pm
Beaverton
Kelly Fones
$499.95 per year
Cancellation & Refund Policy
Class, club, and event fees are nonrefundable. You must cancel 72 hours before the first session of the class, club, or event to receive store credit or apply the fee to another class, club or event. However, if the instructor or Montavilla Sewing Centers has to cancel a class, club, or event, you have the option for a store credit or full refund. Students must bring their own machines to all classes, unless otherwise noted. We request that you do not bring children or guests to the classes. Thank you!