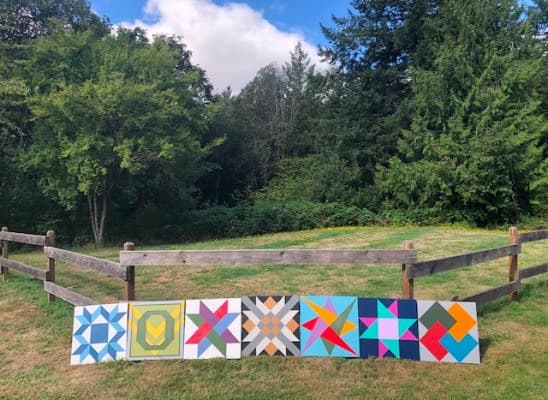 Barn Quilt Painting
Led by Sheila Snyder
Barn Quilt Painting is an in-demand, fun class with step by step instruction that will take you through the process of painting a Barn Quilt from beginning to completion. You will choose a quilt pattern from dozens offered, or you may bring a favorite (instructor will evaluate the difficulty). Take home a finished 2' x 2' project!
Please bring:

Lunch, water, and any snacks you want
6" x 24" quilters ruler
Paper scissors
Apron, or wear painting clothes
All other supplies and equipment are included in the kit. Kit fee is $80, payable to the instructor during class.

Schedule
Upcoming Events
Location
Instructor
Price
Enroll
April 15, 2023
10:00 am - 4:30 pm
Lake Oswego
Sheila Snyder
$49.00
September 23, 2023
10:00 am - 4:00 pm
Lake Oswego
Sheila Snyder
$49.00
Cancellation & Refund Policy
Class, club, and event fees are nonrefundable. You must cancel 72 hours before the first session of the class, club, or event to receive store credit or apply the fee to another class, club or event. However, if the instructor or Montavilla Sewing Centers has to cancel a class, club, or event, you have the option for a store credit or full refund. Students must bring their own machines to all classes, unless otherwise noted. We request that you do not bring children or guests to the classes. Thank you!