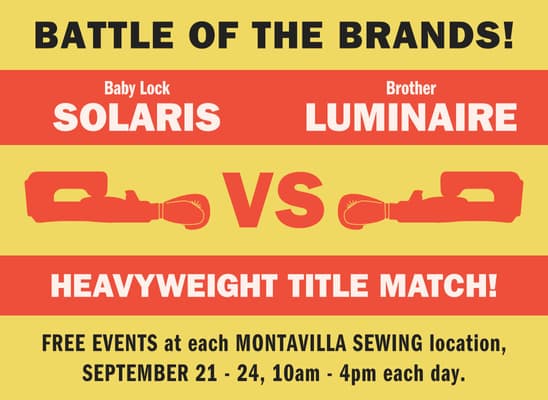 Battle of the Brands
Now presenting our main event! In the Blue corner, presented by Brother educator Coleen Swettman, paired with a ScanNCut digital cutting machine, backed by Disney and iBroidery, and with a stunning Appliqué block option technique, we have the Brother Luminaire!
And in the Gold corner, presented by Baby Lock Educator Denise Applegate-Schober, supported by IQ Technology and sewedclasses.com, and boasting a powerful IQ Designer Quilt Block technique, we have the Baby Lock Solaris!
These two heavyweight contenders will battle it out to claim the title of the ultimate sewing, quilting, and embroidery machine! You may think you've seen it all from these two, but we know there will be some exciting surprises in store for all of us. Light refreshments will be provided, but please bring a sack lunch. Each fighter is at the top of their game, so this should be a battle to remember! Let's get ready to RUMBLE!
Schedule
Upcoming Events
Location
Instructor
Price
Enroll
Cancellation & Refund Policy
Class, club, and event fees are nonrefundable. You must cancel 72 hours before the first session of the class, club, or event to receive store credit or apply the fee to another class, club or event. However, if the instructor or Montavilla Sewing Centers has to cancel a class, club, or event, you have the option for a store credit or full refund. Students must bring their own machines to all classes, unless otherwise noted. We request that you do not bring children or guests to the classes. Thank you!