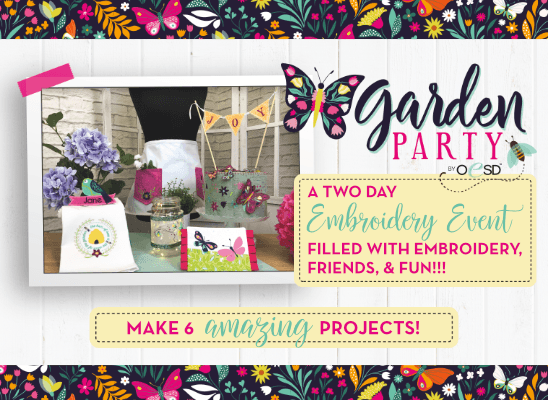 OESD Garden Party
Admission is only $99.95 for a limited time!
A two day embroidery event, filled with embroidery, friends, and fun!

In this two day event, you'll create six different projects, plus you'll learn valuable embroidery tips and techniques to make your own projects more successful and less stressful! Gain inspiration as you view a wide variety of embroidery projects on display and learn how to choose the right products for most any type of project.
All machines and supplies will be provided for this event, including lunch and snacks both days, so you don't have to bring anything! We plan on having up to 24 people in this event, and 12 machines to use, so there will be two people per machine.
Wearing a face mask is required while attending in-store classes, clubs, or events at Montavilla Sewing Centers. Thank you for your cooperation.
Schedule
Upcoming Events
Location
Instructor
Price
Enroll
Cancellation & Refund Policy
Class, club, and event fees are nonrefundable. You must cancel 72 hours before the first session of the class, club, or event to receive store credit or apply the fee to another class, club or event. However, if the instructor or Montavilla Sewing Centers has to cancel a class, club, or event, you have the option for a store credit or full refund. Students must bring their own machines to all classes, unless otherwise noted. We request that you do not bring children or guests to the classes. Thank you!