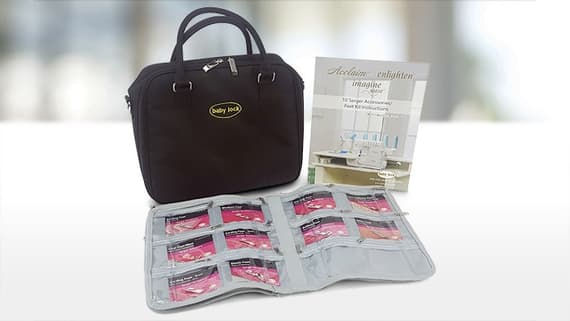 Pre-Owned Machines Available
Contact Us for Current Inventory!
Baby Lock 10 Foot Kit
By Baby Lock
This product is not available for purchase online. Please Contact Us for pricing & purchase options.
* Fits Models BLES4, BLE3ATW-2, BLE3ATW, BLS3, BLS1
This kit for your Baby Lock Acclaim, Enlighten, Imagine Wave, Victory and Celebrate includes additional feet to help you expand your creative options. These 10 feet come in a convenient carrying case.
Kit includes:
Beading Foot
Blind Hem Foot
Clear Foot
3mm Cording Foot
5mm Cording Foot
Elastic Foot
Flat-Sole Foot
Lace Applicator Foot
Ruffling Foot
Teflon Foot
Specifications
Kit includes:
Beading Foot
Blind Hem Foot
Clear Foot
3mm Cording Foot
5mm Cording Foot
Elastic Foot
Flat-Sole Foot
Lace Applicator Foot
Ruffling Foot
Teflon Foot
Warranty
Kit includes:
Beading Foot
Blind Hem Foot
Clear Foot
3mm Cording Foot
5mm Cording Foot
Elastic Foot
Flat-Sole Foot
Lace Applicator Foot
Ruffling Foot
Teflon Foot